York's Carmine Isacco calls unprecedented draft partnership a 'win-win' for CPL, U SPORTS
---
TORONTO – There's no mechanism in the world of soccer quite like the Canadian Premier League's upcoming CPL-U SPORTS Draft.
The newly-announced university draft, unprecedented in Canadian soccer history, sees the league's seven clubs draft players over multiple rounds, allowing prospects the opportunity to sign a CPL-U SPORTS Developmental Contract while preserving their eligibility.
With a player draft taking place on Nov. 12 following the 2018 U SPORTS Men's Soccer Championship (at UBC in Vancouver, B.C.), the CPL's rosters will continue to take shape in anticipation of the inaugural 2019 season, kicking off next April.
For York University head coach and York 9 FC assistant Carmine Isacco, this innovative approach to incorporating university-level players into the league – while allowing them to play in a professional environment, return to school and then potentially be re-drafted the following year – is a net-benefit for the player, a priority he's quite pleased to see appreciated.
"It's a win-win situation in the grand scope of things and it's amazing for U SPORTS," Isacco told CanPL.ca.
He added: "Player freedom is important, and to be honest, it makes sense. If you're training with a group for three months and they haven't made the decision for you to become a pro, another year of university, another year of development and leadership growth, would be important. You could then be useful to another team or an expansion group coming in. I think it's important for the player to have the freedom and to have the value to grow and develop."
The unique opportunity provides university players with a direct pathway to the professional game, one that Isacco said wasn't always available to his student-athletes. He described how some of his players struggled with the balance of striving toward a degree while dealing with opportunities extended to them by professional clubs, though the consequence of losing eligibility or plying away in a reserve team without completing their education meant the decision would often be a tough one.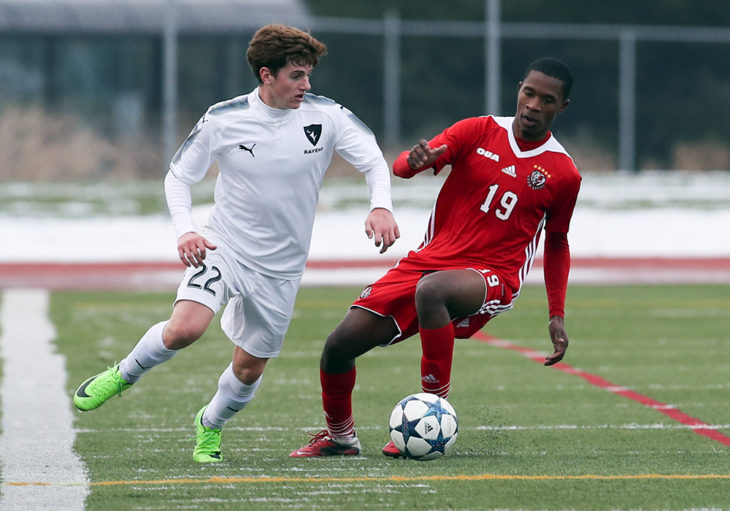 Isacco – twice the recipient of the U SPORTS coach of the year award, (2007, 2014) – has seen plenty of young talents battle with that decision. His advice, however, has been consistent.
"Ultimately, the pro career isn't necessarily the longest, and those university years, your early 20s, are key years for them to find spots in first-teams and maximizing their economic value in the sport," Isacco said.
"My approach is to explain (to my players) that you're here in a university to make sure that you become a professional, whether it's a professional lawyer or a professional doctor, or, in this case, a professional soccer player. So, if that takes a year or two or three or four, and we make sure that we manage your playing time so you can complete your academics, we're good with that."
Now, coaches like Isacco can offer even more tangible career advice: study hard, train hard, work hard, and potentially join a CPL club without the usual slate of consequences.
It's not just an enticing proposition – it's also a valuable recruitment pitch for the school's soccer programs.
"Number one, more kids will stay home, with the carrot on this stick," Isacco said, when asked about the benefit this partnership will have on the university game. "As the CPL grows and the professionalism grows, the quality and the commitment of the schools themselves will be higher, too.
"The recruiting value this will bring to the student-athletes, with the growing quality of the program and the exposure that they get on TV and media and marketing, is going to make everything more relevant. It's a massive step for U SPORTS."