5 things to watch for in Football Manager 21's CPL database
---
Gamers rejoice: Football Manager 21 is here and the Candian Premier League is ready to see you take control of one of its eight clubs.
A revamped Canadian player database is more accurate than FM20, the first video game the CPL has ever been featured in. This means more info and data to dive into.
Before you kick-start your first FM21 save in the CPL, here are a few things to watch for. Go ahead, you might just learn something.
---
RELATED READING: More on Football Manager 21
---
Future transfers arranged
A bit of sorcery from the Football Manager database.
Transfers arranged as early as last week are reflected in the CPL's 2020 database, maintaining a scary amount of realism through the Island Games and beyond.
For example, York9 FC has transfers arranged for internationals like Lisandro Cabrera and William Wallace, while Luca Gasparotto is poised to retire at the season's end along with HFX Wanderers FC goalkeeper Jason Beaulieu. Big-name players will be available to sign on a pre-contract, too, like ex-Valour FC midfielders Dylan Carreiro and Louis Beland-Goyette.
These preset transfers should guide you through the Island Games playing-time wise, with certain players set to depart.
---
RELATED READING: What's new for Canadian Premier League in Football Manager 21
---
International players unavailable
Just like real life, COVID-19 has had its impact on the virtual CPL, starting with international players, several of which couldn't join their CPL clubs in time for the Island Games; Jose Escalante for Cavalry FC, Tevin Shaw and Bernardinho of Atlético Ottawa, and York9 FC's Nicholas Hamilton being some of those names missing.
But, in FM21, two players have been added to Island Games rosters; Eriks Santos of HFX Wanderers FC and Cavalry FC 's Richard Luca. These additions could be game-changing for managers looking for an extra boost that wasn't available in real-life this past season.
David Edgar remains top-rated Canadian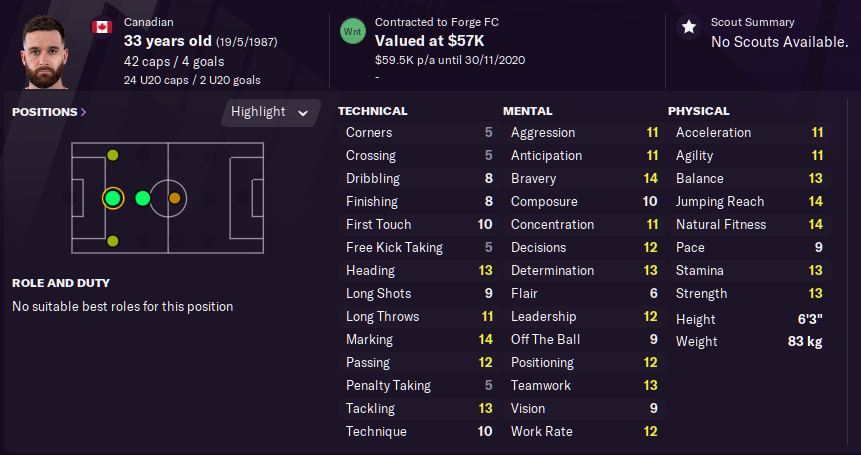 Forge FC's leader at the back is the top-rated Canadian CPLer in the game, boasting a better "current ability" total (all attributes combined into one figure) than any other.
Above-average physical stats are paired with the 33-year-old's well-documented ability to command a defense, making a deadly combination in FM21.
---
RELATED READING: 4 Canadian Premier League saves to try in Football Manager 2021
---
Lower league talent ready to be scouted
As covered, Canada's lower leagues feature accurate rosters in FM21, giving users a chance to scout real-life CPL prospects for their clubs.
League1 Ontario and Première ligue de soccer du Québec offer some of the tastiest player recruitment opportunities.
Fancy yourself a good eye for Ontario talent? L1O has loads of promising players worth promoting. Sigma FC standout striker Leaford Allen holds a solid in-game potential that could put him to the level of a consistent CPL starter. Same goes for Oakville Blue Devils 'keeper Luke Birnstingl.
PLSQ offers another slate of players. AS Blainville veteran Pierre-Rudolph Mayard stands as the highest-rated Canada-based domestic player outside of the CPL, while gems like U SPORTS and Celtix du Haut-Richelieu centreback Guillaume Pianelli-Balisoni have a hidden in-game potential to surpass the likes of Dominick Zator in terms of ability.
Player of the Year nominees are ones to watch
While a proper CPL MVP will be awarded Thursday at the 2020 CPL Awards, it's clear to see all three nominees got a considerable bump in value year-over-year, at least in Football Manager.
Pacific FC's Marco Bustos, HFX Wanderers FC's Akeem Garcia, and Forge FC's Kyle Bekker have all been boosted year-over-year.
The 24-year-old Bustos presents the biggest boost, with his ball control and technical ability better than most CPLers. What's more, he's out of contract by the end of the year. Can you convince Bustos to join a third CPL team in three years?