In their own words: CPL's head coaches share individual philosophies, styles
---
TORONTO — Seven new clubs, featuring seven inaugural coaches, in a new league with new rules and rosters and venues and almost everything.
Like you and me and everyone else, new jobs offer fresh starts — opportunities to showcase your ideas and ability.
As such, the Canadian Premier League's seven coaches are getting the, uh, fresh start of a lifetime: a clean slate with players in communities that have long wanted a professional club to call their own.
So, how will some of the CPL's coaches manage their teams in Season 1?
Touch-line trampling? Bench bumbling?
We'll let them tell you in their own words:
Stephen Hart, HFX Wanderers FC
East coasters are known for their relaxed attitudes — something HFX Wanderers FC coach Stephen Hart could draw from in his day-to-day role as Wanderers bench boss.
"Players are individuals. Sometimes we forget that they have lives outside of football. They have families and all the problems we have," Hart said.
"It's about trying to be as open as possible. I don't know if 'fatherly' is the right word, but that's how I want to be."
Of course, many will be familiar with Hart's style and personality from his time with the Canadian men's national team.
"I remember Atiba Hutchinson telling me 'we can't hear a word you're saying,' Hart said jokingly when asked about his touchline demeanor. "I like to be off the bench and trying to keep everyone concentrated."
Jeff Paulus, FC Edmonton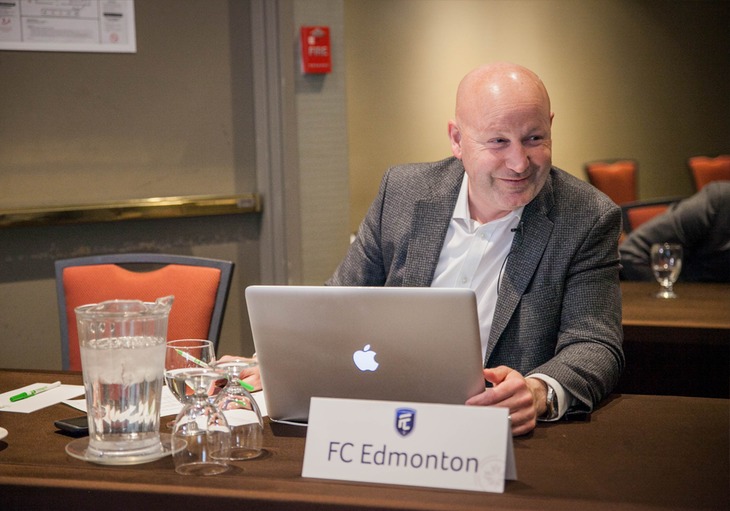 Ball on the floor. Possession. Goals. The way the game should be played.
"If we give up three, we score four," head coach Jeff Paulus told CanPL.ca.
His playing philosophy?
"I want our teams to play good football. I want my players on the ball."
The 49-year-old also offered some insight into his training methods.
"This is not a track sport and I take that idea into my training session," Paulus said. "I try to keep it fun for the players and always with the ball at their feet."
That is, until something doesn't go FC Edmonton's way.
"If there's a dodgy refereeing situation you'll see me on my feet," Paulus said.
Michael Silberbauer, Pacific FC
It's a case of learning by osmosis for Pacific FC's Michael Silberbauer.
The former Danish international, who has coached and played at the highest levels in Europe, will adapt to his squad's needs.
"Obviously, you have some coaches that make an impact on you, but you need to find your own way — your own strengths and weaknesses," Silberbauer said.
"I'm going to be a manager that's gonna fit a style around the players I got."
Can Pacific FC fans expect a temperamental manager pacing the touch-line?
"I tend to get a little emotional in the game," the typically reserved Silberbauer answered.
Jim Brennan, York9 FC
Whether it was Mo Johnston at Toronto FC, a young Tony Pulis at Bristol or ex-England international David Platt at Nottingham Forest, Jim Brennan has an abundance of managerial inspiration to draw from.
The York9 bench boss says he'll coach his hometown club with his former managers in mind.
"They've really shaped me into the coach and man I am today," Brennan told CanPL.ca. "Every coach has their own style or philosophy and you take a little bit from everybody."
Is Jimmy Brennan a player's coach?
"I'd love to be a player's coach," he said. "You have to look after them because they are doing a job for you.
"But you need to have discipline. This is a job. This is work."
And with a very personal connection to the region, Brennan hopes his management style can bring out a certain level of professionalism in his players.
"You can have some fun, but at the same time you need to be a role model," Brennan explained.
"We are the future for the next generation of kids that are coming up. We need to find a fantastic playing environment. We've got to teach everyone involved in our club what being professional is all about."
Tommy Wheeldon Jr., Cavalry FC
"I keep Jr. in my title—my dad was a coach," Tommy Wheeldon Jr. told CanPL.ca.
Tommy arrived in Alberta to play under his father, Wheeldon Sr., for the Calgary Storm of the A-League.
"I follow in his footsteps — learning from him and other coaches I have had."
Local fans will be familiar with his appearance on the touch-lines thanks to his work with the Calgary Foothills.
"Authenticity is important," he added. "I'm going to be who I am. I'm not going to be toning things down or acting up for the cameras."
Potential mind games aside, Wheeldon Jr. hopes the results will come as he develops himself as a manager.
"The coach I've become is because of the hard work and the opportunities presented in front of me," he finished.