Tristan Borges aims for return to the top with Forge FC after 'learning period' in 2021
---
Tristan Borges is aware of the heights he can reach.
In 2019, he was the CPL's first great superstar, potting 13 goals and five assists — leading the league in both categories — to claim the inaugural Player of the Year crown and lead Forge FC to the championship.
On the back of such a dominant season at age 20, Borges was one of the first CPLers to be sold to a club at a higher level, earning himself a move to Belgian side Oud-Heverlee Leuven (securing a transfer fee for Forge in the process). It also wasn't long before Borges got a Canadian national team call-up, which he got in January 2020 for a winter camp in California. At that point, the sky seemed the limit for the young Toronto native.
Things didn't quite go to plan from there, though. The arrival of COVID-19 threw a wrench in his club's promotion campaign, and left Borges on the fringe of the first team squad; when a new manager took over in mid-2020, the plan for Borges changed somewhat.
"It's difficult to explain exactly how I was feeling; a lot of different things happened and it is what it is," Borges told CanPL.ca recently. "The pandemic happened and everything, and I could just sit here and complain about how it was unfortunate for me, but everybody was going through a lot of stuff — a lot more difficult things than me as well.
"But still, for me, the experience is unbelievable… I'm always looking at how (Leuven) are doing, a lot of them are still very good friends with me. For me, it's just about the experience and what you take from it."
---
RELATED: Forge FC: 2022 Canadian Premier League Season Preview || CanPL 20 in 10: Forge FC coach Bobby Smyrniotis
---
In 2021, Borges returned to Forge on loan from the Belgian club, hoping to rekindle the magic he found there in 2019. Still, the dream of playing in Europe or elsewhere survives.
"A lot of players always have those kinds of dreams," he said. "I know, especially in my first year, a lot of my success was just going day by day and we'll see what the future holds after. I've always been like that, my father's been instilling that in my head since I was young — don't stress too much about things you can't really control."
Last season, Borges' return to Forge, wasn't quite as dominant as his first. Still, he contributed four goals and eight assists as the Hamilton club tore through another strong CPL season, Concacaf League campaign, and Canadian Championship.
Back in the Hammer for 2022, Borges has loftier ambitions for himself — although the main priority for him is reclaiming the CPL championship, which Forge lost to Pacific FC in 2021.
"I have my individual goals," he admitted. "Goals and assists are obviously something that I always try to be a part of, and for me individually, I think I could have done a little bit more (in 2021). I wouldn't say it was my best season, but it's a learning period, right? I've been through a lot of different scenarios and it's all about learning, recovering from it, and doing better next time."
Borges added: "What I'm actually really looking forward to this year is just being back to a normal season again. That's something that gets me more excited and more motivated than ever. Being able to have a proper week, proper planning to go into a game — for myself individually as well, taking care of my body — just being able to have a normal season again, that's something you realize after not to take for granted."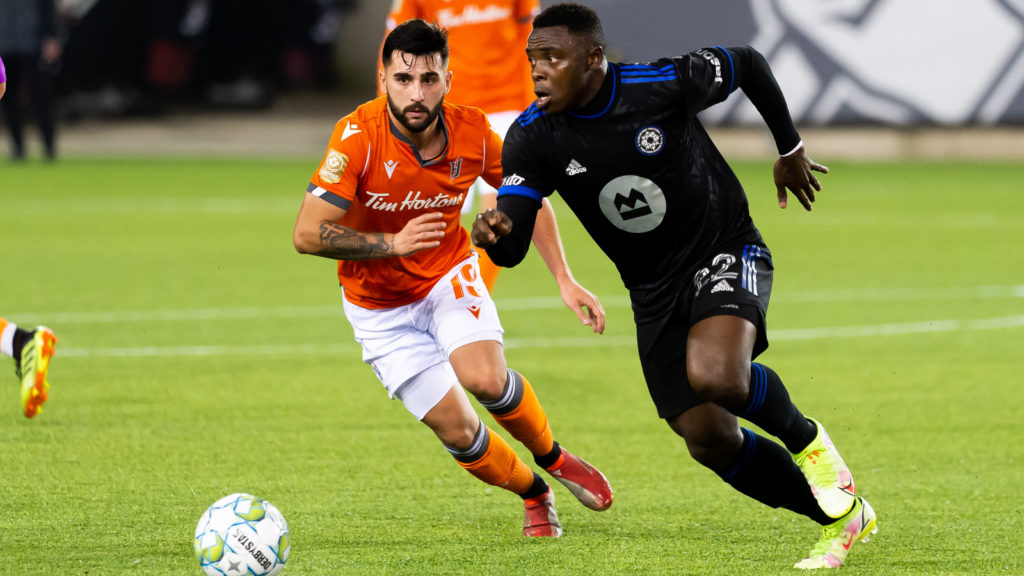 The now-23-year-old has become a veteran in the Forge locker room, having been along for so many of their triumphs. This year, much like last, he's hoping to continue to demonstrate his versatility as a footballer — in 2021, he spent a lot of time playing on both wings, but toward the end of the year dropped more frequently into the number 10 spot, which Borges says is his most comfortable position (although he adds he's just happy to contribute anywhere, of course).
As a club, Forge's ambition in 2022 has not waned in the slightest. They had their first taste of the Concacaf Champions League in February, when they took on Mexican giants Cruz Azul — and impressed the historic club in a trip to Estadio Azteca.
Four years ago, when the club first kicked off, many couldn't have dreamed they would accomplish what they have in such a short period. Now that they've done it, though, Forge is hungry for more. Their path back to continental football this year is the Canadian Championship, which they're keen to win in 2022 (twice, actually), especially considering how close they came to the 2021 final in a loss on penalties to CF Montréal.
"It's exciting times, I know there's a lot of motivation within the squad," Borges said. "There always is this time of year, but knowing how the year ended last year I think it's a little bit of extra motivation.
"I'm very grateful to be part of Forge these years; it's difficult to really explain unless you're in the environment, and I know I say that a lot, but if you really look at the stuff as a club we've accomplished and what we've been through under the circumstances, it's remarkable. To play in stadiums like Azteca, to play a club like CF Montreal and bring them to PKs; maybe when you're in the moment you don't realize it but a couple years down the line when you see how big the league is you start to see, okay, this is what this team was doing at the time."
In 2022, most of Forge's core remains in place — Kyle Bekker, Alexander Achinioti-Jönsson, Dominic Samuel, and so many more integral parts of Bobby Smyrniotis' squad — but there may be more fresh faces than ever before, as well.
After losing to Pacific in the CPL Final, they went out and poached two of the Tridents' top players. Terran Campbell and Alessandro Hojabrpour — the latter of which scored the goal to beat Forge in that title decider ("I don't wanna talk about that, man," Borges quipped, laughing) — are now in orange.
So, too, is experienced Canadian international Ashtone Morgan, who seems already engrained in the culture of the club.
Ultimately, Forge is striving to stay among the CPL's elite. The gap continues to close, but the team in Hamilton continues to have its sights set only on the top position.
---
To see CanPL.ca's interview with Tristan Borges in full, go to YouTube.com/CPLsoccer.
For more CPL season preview content, featuring one of our eight clubs each day leading up to the first match on April 7, check out @CPLsoccer on social media or click here.