Cavalry goes top of the table after beating FC Edmonton in Al Classico
Alberta will remain red for the foreseeable future.
Cavalry FC triumphed yet again in Thursday night's Al Classico, the sixth meeting between the Cavs and FC Edmonton, earning a narrow 2-0 win over their provincial rivals.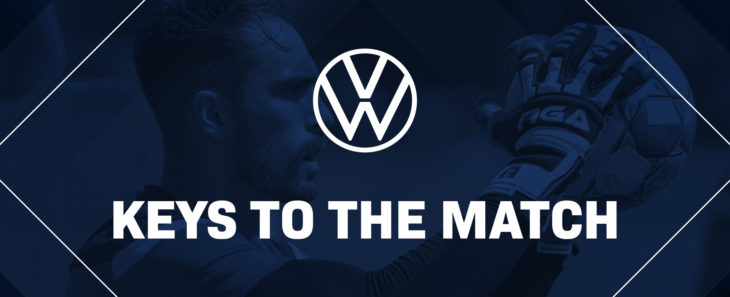 With seven points from three games, Cavalry sits in first place in the overall standings, two points ahead of Forge FC.
The match opened with an edge to it, as the hungry Eddies tried to stake their claim in the first half. The opening stages saw both sides locked in an intense battle down one wing, with Cavalry's Mohamed Farsi and Nico Pasquotti going toe-to-toe with their opposite numbers, Terique Mohammed and Hanson Boakai.
The lone goal on the night came just a hair before halftime, with the first major chance of the game. A rapid piece of linkup play down the right flank saw five Cavalry players connect with each other, as Farsi ultimately sent in the cross for Oliver Minatel, who set it up for a calm Jordan Brown finish.
The real drama began in the second half, though, when Edmonton's Terique Mohammed flew too eagerly (and late) into a challenge on Farsi and immediately earned a straight red card from referee Yusri Rudolf.
Despite going down to 10 men in the 49th minute, Jeff Paulus' FCE side remained in the game, causing more problems for Cavalry than 10-men Valour FC did for Atlético Ottawa on Tuesday. With youngsters Chance Carter, David Doe, and Anthony Caceres entering in the second half to inject some energy, the Eddies fought well — although Cavalry did create the better chances, failing to finish all but one of their 12 total shots.
Indeed, Cavalry should've gone up 2-0 in the 79th minute, were it not for a miraculous Connor James kick save on Marcus Haber. They did, ultimately, get their second deep into stoppage time, though, as the referee awarded the Cavs a controversial late penalty, and Brown scored his second of the night from the spot to seal things.
Those two goals were all Tommy Wheeldon Jr.'s team needed as they remained unbeaten against their fellow Albertans.
FC Edmonton will now look ahead to another match they've had circled on the calendar, as they take on Atlético Ottawa for the first time on Sunday (1:00 p.m. ET/12:00 p.m. AT). After that, Cavalry FC will return to action against HFX Wanderers FC (8:00 p.m. ET/9:00 p.m. AT).
---
RELATED READING: Paulus: 'Referees didn't cost FC Edmonton' || Wheeldon commends 'patient, surgical' Cavalry
---
BOX SCORE
Goals
44′ – Jordan Brown (Cavalry FC)
90'+5′ – Jordan Brown (Cavalry FC)
Discipline
31′ Yellow – Tomi Ameobi (FC Edmonton)
49′ Red – Terique Mohammed (FC Edmonton)
---
TOP PERFORMER
Mohamed Farsi (Cavalry FC)
For the third game in a row, the PLSQ-produced fullback was perhaps the liveliest player on the pitch. He earned a hockey assist on Brown's goal by sending in the cross, and he was unstoppable along the right flank in his 64 minutes of work.