Players to watch heading into Day 2 of the #GotGame Open Trials in Hamilton
---
HAMILTON — From Halifax to Quebec and, now, Ontario, more than 200 hopefuls began Monday's #GotGame Open Trials in Hamilton.
Fighting through spells of wind gusts and moderate rain, the list of players has been trimmed ahead of Day 2 at Tim Hortons Field.
The league's coaches selected 56 trialists to move on to Tuesday — which, as usual, will feature 11 vs. 11 games and a better opportunity to evaluate players who could received an invite to preseason camps.
There were, of course, players who stood out.
Here are four players who caught the eyes of CPL coaches on Day 1 in The Hammer:
---
TRIALIST NO. 565
STEFAN MITROVIC, 16
POSITION: Midfield
NATIONALITY: Canadian
CPL COACHES SAY: Referring to him as "the kid from the videos," CPL coaches complimented Mitrovic for how "comfortable" he looked on the ball — especially for a teenager. One coach added the 16-year-old Hamilton-native had "nice balance" — an attractive trait for an attacking midfielder. For his age, Mitrovic had "good awareness" and made what CPL coaches referred to as "smart" passes throughout the small-sided games. He currently plays for Empire Canada Soccer Academy.
---
TRIALIST NO. 531
DANIEL JODAH, 23
POSITION: Winger
NATIONALITY: Canadian
CPL COACHES SAY: The Mississauga native looked "quick" during Monday's Open Trials and demonstrated an eagerness to isolate and beat defenders in one-on-one situations. Jodah showed all the characteristics of a good wide player: Confidence, technical ability and speed. Simply put: "He runs at defenders." Jodah recently competed in League1 Ontario for Sigma FC after spending four years at Marshall.
---
TRIALIST NO. 525
TAHA ILYASS, 20
POSITION: Forward
NATIONALITY: Moroccan
CPL COACHES SAY: The big target man holds the ball up well and just seemed to get himself into good positions in front of goal throughout Day 1. As one coach put it, Ilyass "got on the end of things." He's good in the air — an important quality for a No. 9 with size.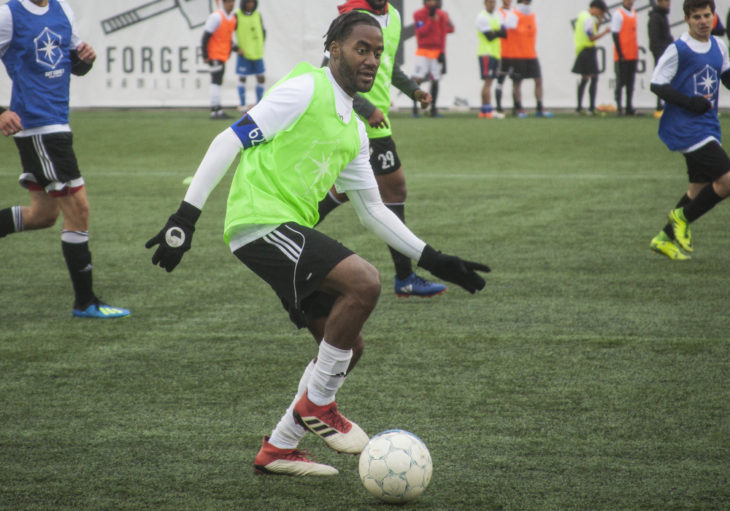 ---
TRIALIST NO. 625
JUSTIN STODDART, 23
POSITION: Midfielder
NATIONALITY: Canadian
CPL COACHES SAY: Stoddart is a "shifty" central player with the ability to score from his midfield position. Coaches also appreciated his ability to play with both feet. The former Oakland University standout is good on the ball and could be a promising option for a CPL club looking to add depth to its roster entering 2019.
---
TRIALIST NO. 456
CHARLIE ANAGHO-NTAMAARK, 25
POSITION: Forward
NATIONALITY: England
CPL COACHES SAY: Charlie grew up in Aston Villa's system before moving to the United States and winning a national title at Florida's Montverde Academy. One coach referred to Anagho-Ntamaark as a "powerful" hold up player who also has the ability to get on the ball and score goals. Coaches admired the extra "bite" he had in his game — something that shows he has been in highly competitive environments.