Wanderers go stride-for-stride with Forge in entertaining draw at Island Games
---
HFX Wanderers FC have given the Canadian Premier League kingpins something to think about.
The Wanderers and Forge FC battled to a 1-1 draw on Wednesday night, as the East Coast side was left reeling following a controversial refereeing decision in their second consecutive match at The Island Games.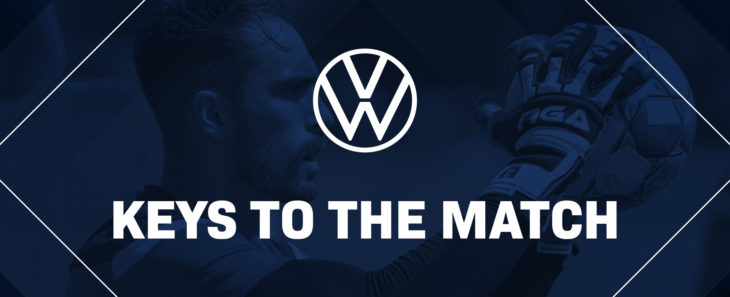 This result puts Forge temporarily atop the CPL standings with five points from three games. The Wanderers, meanwhile, sit on two points from as many matches.
It was a competitive start for HFX against the 2019 CPL champions, though a controversial penalty call put them down early. Goalkeeper Jason Beaulieu collided with Forge fullback Kwame Awuah when he punched a ball clear. Referee David Barrie saw enough to call for a penalty, which was converted by Paolo Sabak, the Belgian's first goal in a Forge shirt.
Sabak's penalty was the lone goal in a cagey first half, with the Wanderers out-possessing and out-working Forge at times. Beaulieu rebounded well, as a few late-half scrambling moments were handled calmly by the former Montreal Impact 'keeper.
The Wanderers were rewarded in the 47th minute when a smartly-timed pass from substitute Alex Marshall found Akeem Garcia through Forge's formidable defence. Garcia calmly slotted home the equalizer and, seemingly out of nowhere, the match was tied.
Forge turned up the heat in response, moving the ball quickly against their counterparts. Sabak squandered a great chance when he skied his attempt on goal in front of a gaping Wanderers net.
Forge coach Bobby Smyrniotis attempted to surprise the Wanderers backline with a brand new front-three of Mo Babouli, Elimane Cisse, and David Choiniere, though they would prove ineffective.
Forge meets Pacific FC on Saturday (4:00 p.m ET/5:00 p.m. AT), while the Wanderers meet Cavalry FC on Sunday (3:00 p.m. ET/4:00 p.m. AT).
---
RELATED READING: Second-half onslaught lifts Valour FC over 10-men Atlético Ottawa || Missed shots haunt Forge as they struggle to solve HFX
---
BOX SCORE
Goals
16'– Paolo Sabak (Forge FC)
47'– Akeem Garcia (HFX Wanderers FC)
Discipline
15' Yellow – Jason Beaulieu (HFX Wanderers FC)
44' Yellow – Louis Béland-Goyette (HFX Wanderers FC)
48' Yellow – Marcel Zajac (Forge FC)
88' Yellow – Klaidi Cela (Forge FC)
90'+3′ Yellow – Peter Schaale (HFX Wanderers
---
TOP PERFORMER
Aboubacar Sissoko (HFX Wanderers FC): The former U SPORTS standout was a monster in the middle of the park for Halifax, driving the play forward with his team-high 30 passes in the opposition half. He didn't let Forge's midfield have a whiff of space, either, smothering Kyle Bekker and Paolo Sabak.