FM21 CPL guide: How to manage Forge FC
---
Think you're a better coach than Forge FC mastermind Bobby Smyrniotis?
Prove it: Win the CPL Championship with Forge FC in Football Manager 21, the latest game in a wildly-successful football manager simulation series.
Back-to-back real-life CPL champions, the Hamiltonians arrive in FM21 as the Island Games favourites, with the likes of Mo Babouli, Kyle Bekker, and David Edgar stacking up as some of the best Canadians available in the virtual CPL world.
Think you have what it takes? Pick up FM21 on Epic Games or Steam, take a quick read, and take the wheel from Bobby for a run at Island Games glory.
---
RELATED READING: 5 things to watch for in Football Manager 21's CPL database || More on Football Manager || 4 Canadian Premier League saves to try in Football Manager 2021
---
Play like Bobby
Forge thrives with the ball on the ground in FM21, just like in real life. Adopt a "control possession" or "tiki-taka" tactic preset to get the best out of Hamilton's technical ability and truly suffocate other teams at the Island Games.
Now, a word of FM21 caution: Forge can sometimes get stagnant in this possession-first style, rarely earning decent scoring opportunities as other in-game managers elect to sit back and soak up pressure. Our first play-through with Forge saw them finish seventh – and only scored eight goals over seven matches.
To rectify this, we'd recommend a few things; play with a higher tempo, instruct wingers like David Choinière and Chris Nanco to "run at defenders," and play with an "attacking" mentality.
Rotate often
Forge's relentless possession style can lead to tired legs. Luckily, they are a deep side, especially up top – Chris Nanco, Mo Babouli, Anthony Novak, Marcel Zajac, Kadell Thomas, and so on.
Use those depth pieces to your advantage by swapping players often to avoid injury and fatigue. Most players arrive at the Island Games lacking match fitness, just like in real life, so it's up to you to manage it.
In other words… use all of your available subs!
Use a false nine/deep-lying forward role
Anthony Novak and Mo Babouli, Forge's main centre forwards for the Island Games on FM21, are best used in-game as more deep-lying strikers – Babouli's profile most-accustomed to a false nine role, believe it or not.
We'd recommend keeping the lone centre forward position – likely in a 4-3-3 – to one of those aforementioned back-to-goal roles, coming to wingers and midfielders to combine in the final third. Both virtual versions of Novak and Babouli fit those roles, and you'll find they'll work much better than "advanced attacker" or "poacher."
Player to watch: David Edgar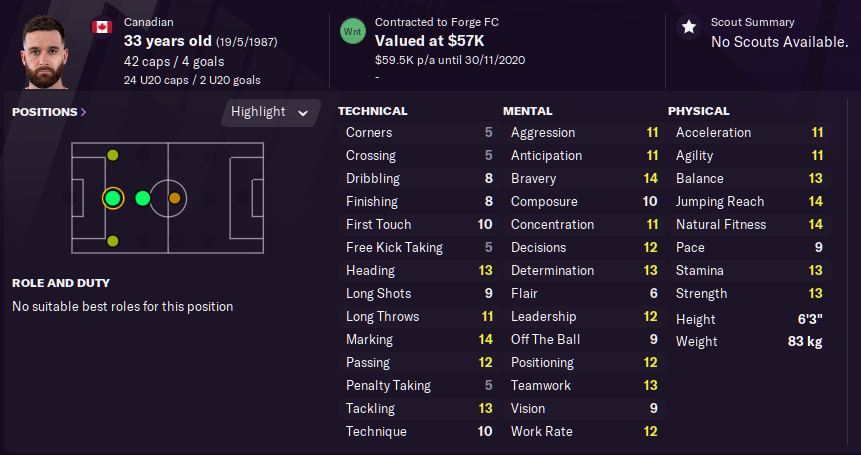 Forge FC's leader at the back is the top-rated Canadian CPLer in the game, boasting a better "current ability" total (all attributes combined into one figure) than any other.
Above-average physical stats are paired with the 33-year-old's well-documented ability to command a defence, making a deadly combination in FM21.