Gattas or Adjei? Comparing York9's Year 1 forwards
---
It's one of the most polarizing pub discussions made by football supporters across the world: Who starts up top?
Which player, or combination of players, will get the best results on the weekend?
York9 FC and its supporters were primed for a discussion like that in Year 1 thanks to two polarizing international strikers pulling pundits and fans in opposite directions: Quick and slippery Rodrigo Gattas and brutish centre-forward Simon Adjei, who was released by the club this week.
---
RELATED READING: York9 FC parts ways with Swedish forward Simon Adjei
---
Adjei held the late-season form while Gattas played 500-odd more minutes more than his Swedish counterpart, making a larger imprint on York9's Inaugural Season.
Gattas ended the year with nine goals, Adjei had seven … and two assists. You can see how this discussion could stagnate quickly.
Here's a look at York9's two Year 1 international strikers:
---
A case for the underrated Simon Adjei
After scoring 30-odd goals at a decent level in Sweden, the Canadian Premier League's first international signing didn't exactly come up big as his frame would suggest, scoring a modest seven goals across 24 appearances.
However, Adjei's advanced stats tell a much, much different story.
According to SportLogiq, the 25-year-old sat in the top 10% of CPLers in assists (.25), shots (3.33) and line-breaking receptions (3.25) per 90 minutes.
---
RELATED READING: CPL off-season roster tracker: Who's in and who's out for 2020?
---
As your typical out-and-out centre-forward, Adjei clearly offers something special in open play. He retains possession better than Gattas statistically as a back-to-goal striker, averaging more successful passes in the opposing half and touches in the box than his former Chilean teammate, too.
The issue, perhaps, lies with the shooting boots. Whether left alone at the back post against Cavalry FC on Sept. 28 or a chance to turn and fire five yards from Forge FC's goal in the penultimate 905 Derby, several missed opportunities come to mind.
Gattas brings goals, but are they enough?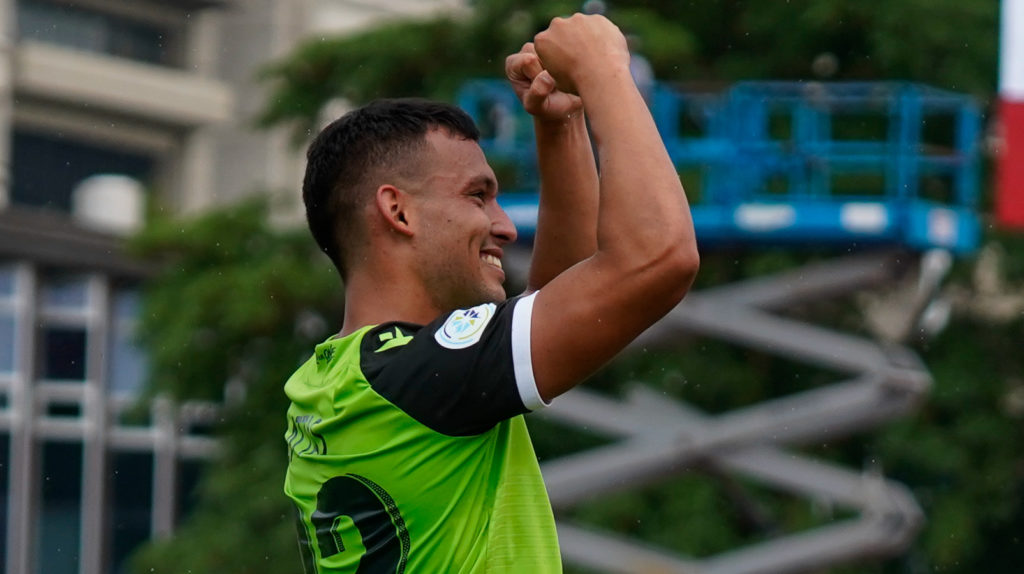 Ending fifth in league scoring with nine goals, Y9's Chilean striker found lots of playing time in 2019, likely due to an ability to finish.
Gattas is also currently unsigned by the club for 2020, leaving his future in question.
Look at his seven goals in the Fall season; the 30-yarder, volley and header hat trick against HFX, the right-footed one-hit against Valour or the 90th-minute volley against Forge Gattas can convert from difficult situations.
However, one thing is evident in these goals: Gattas didn't have much to do in the buildup.
In fact, save for that long-range effort against HFX, all goals came from crosses, several of which with a fullback cut by Diyaeddine Abzi or Morey Doner undoing the opposing defense.
Save for shots and crosses, Gattas' statistical output is hovering around league average – including key passes and successful passes per 90.
York9 ranked fifth in Opta's big chance created metric with 30. For context, Cavalry top that category with 61. Perhaps Brennan sees Gattas as a finisher of those aforementioned chances – and if chances are few and far between, perhaps Brennan needs to look elsewhere.
Oh, and Gattas missed two of four penalties – including a point-salvaging attempt late at Forge. Not a great return from the spot.
Why not sign both?
Ah, good point! Clearly York9 hadn't thought of that.
Just kidding, of course they had. Head coach Jimmy Brennan clearly saw the potential value of harnessing both players. But, he likely didn't want to give up a spot in the midfield and shift to an unpredictable 4-4-2,
Still, in a 4-2-3-1 variant, Brennan found ways to put them together … to limited effect. Gattas played in combination with Adjei, whether as a winger or a second striker, in several late-season matches. Brennan removed one of the two before full-time in each match, including on the final day against HFX Wanderers, hinting at a lack of faith in the combo. The pair played when Y9 faced Cavalry FC in late September, too, combining for zero shots on target (the Cavs were down to nine men for 10 minutes before Adjei was taken off in the 83rd minute).
York9 has decided to go without Adjei. Should they stick with Gattas though, to help young centre forward Gabriel Vasconcelos?
Like any good pub debate, there is no right answer.