FC Edmonton's Paulus already asking questions of CPL opponents: Can you keep up?
---
EDMONTON — The image of the Eiffel Tower bathed in blue, white and red lights is burned in the minds of Bruno and Allan Zebie.
The 1998 World Cup final and the celebrations it sparked on the streets of Paris was transformative for the brothers. France hammered Brazil in the 1998 final, with Zinedine Zidane putting in a performance for the ages.
"It's amazing that, even though I was only three (years old), I can remember everything about the 1998 World Cup," Bruno told CanPL.ca.
"My first memory of soccer is winning the World Cup in 1998," Allan added. "My first professional team that I loved was PSG, so the whole soccer journey for me started over there."
After France won its first World Cup, the Zebie boys asked their mother to shave their heads, with just a ring of hair remaining, so they could copy Zidane's famous do. A few seconds after the cuts were complete, the boys had sober second thoughts.
"I felt my head and I thought, 'I can't have that!" Allan said with a laugh.
Fast forward to the summer 2018. The Zebies are now Canadian citizens.
Allan was at home in Edmonton last summer, waiting things out after suiting up for FC Edmonton in the NASL.
He was at the Garneau Theatre, watching the World Cup final between France and Croatia on the big screen when he called his brother, who was in Calgary with Foothills FC of the PDL, soon after the final whistle of France's 4-2 win.
Twenty years later, they were enjoying another bleu day.
The Zebie brothers will be FCE teammates in 2019. And they'll be coached by Jeff Paulus, who mentored them in FCE's Academy — and is also a massive follower of French football. Paulus's grandfather came to Canada from France. And Paulus has a dog named, ahem, Zizou.
When April comes around, Canadian soccer fans will see an FC Edmonton that embraces French tactics. And what do the French embrace?
SPEED, SPEED AND MORE SPEED 
They run the opposition into the ground. When the French counterattack, they push towards the goal as quickly as they can. They do not get to the final third and then wait for reinforcements. They don't allow defenders any time to survey the field and reorganize.
Because the defenders can't direct traffic, the French transform the game into a series of one-on-one battles all over the attacking third, knowing their speed and quick decision-making give them a massive edge.
Basically, they run the field and dare you to keep up with their pace for 90 minutes. It's not lateral football. It's not about making 20 short passes.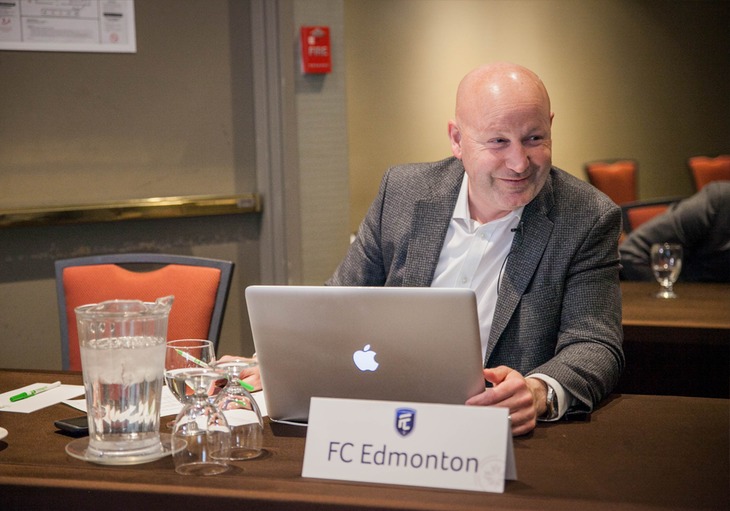 "You're going to see some elements of the French style here," said Paulus, adding he expects to have 20 rostered players in January.
"And, every one of them is an athlete," he continued. "Every one of them has incredible pace. But, more importantly, they've got good technique to go along with it. They can receive it and control it. We're going to be fast. This is going to be the most athletic team FCE has ever seen. And it is going to mirror the French in that respect — 100% it will."
His players already know what to expect when pre-season rolls around this spring.
"If you look at the players Jeff has signed, they are good on the ball, but they are definitely very fast, and very physical too," said Bruno. "We have balance; we can keep the ball, but we can force the attack if we need to."
Allan added: "I think everyone around the world, because of Barcelona and Spain, were into the tiki-taka style. But France are more organizes defensively and break from there. It's the high pressure, go on attack right away. If you get the ball, you want to pressure and try to score right away. It is a more fun way to play, but you need to be fit."
Paulus says Son Yongchan, the South Korean who wowed the Canadian Premier League coaches at the Toronto Open Trials, will be a key player in the push-the-pace FCE system. As well, the team wants the wings to be active, including the speedy Randy Edwini-Bonsu.
CAN YOU KEEP UP?
"We're not going to sit back on a lot of teams," says Paulus. "We're going to press high, we're going to press in their half. We've got the players to do it. Son Yongchan presses the ball faster than any player I've seen in my six years in the NASL. And his workrate his through the roof. And you add Allan Zebie, his workrate was amongst the best in the NASL as far as the areas of the pitch he covers in a game.
"Bruno is identical to Allan, in fact he might even be fitter than Allan. We've got wingers in Randy Edwini-Bonsu that we've already announced, and another winger who is very similar to Randy on the other side who is about six feet tall, lightning fast and incredible on the counterattack. We've got another big striker, who people will be happy to find out we've signed, who can get in behind. We're going to have pace all over."
And the question for the the other six CPL clubs: Can you keep up?
"We're really going to put teams under pressure and see what teams have players that can manage the ball under pressure, can make decisions under pressure," Paulus finished. "For us, we're going to ask the question of other teams: Can you keep playing at this pace for 90 minutes — because we're going to. I love teams that make decisions so fast, that react so quickly, that they catch the other team off guard."